# ILA Wierciłapa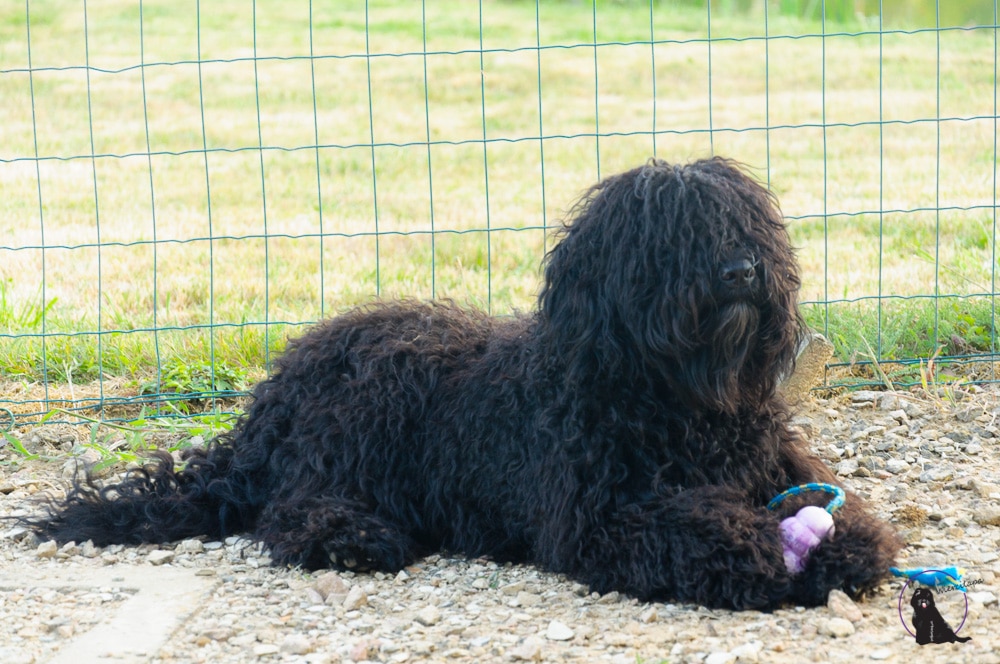 Name: ILA
Nicknames: Bombila, submarine, scout, turbo
Kennel: Wierciłapa
Father: BOREE di Barbochos Reiau de Prouvenco (NED) (hips A/A)
Mother: GEORGIA ON MY MIND se la serve de la Chapelle d'Alexandre (PL) JChPL(hips A/A, elbow 0/0)
Born: 18 july 2013 in Warsaw
Achievments: Champion of Poland
ED: 0/0, HD: A/A, eyes checked and clear (inc. PRA, RD)
On the one hand, super-handsome, strong and athletic uncle, on the other calm and overprotective mother, who still treats ILA like a little puppy, allows her to do anything, protects against the world, and checks whether the little one has done all her needs. We suspect that GEORGIA would still like to feed herm if it was possible. The difference with ILA is that she lives with us since the very first day. She is very attached to Ania (her second mom), when Ania leaves (and we stay) ILA doesn't care about us, she lies near the door and waits. The division of roles in the flock is like in the military, HQ – GEORGIA, cavalry – ARGO, and ILA has the role of agile scout.
Uncle took care of physical training, from childhood ILA played with ARGO, she had practiced and practiced, racing, jumping, running on the walls (as in the Matrix) and any other crazy ARGO's ideas.
When ILKA was still very small, our 27-kg strongman encouraged her into a little fighting, every time the little one attacked, he pretended to be heavily knocked-out, when he run away, it was always at a speed that allowed ILA to catch him and bring him down, with comical fall on the ground. That training gave her physical fitness and a trust in hers uncle strength and protection. For example, ILA is so agile that she usually prefers to jump over the other dog than walk around him. On the walk she acts as a scout. She is always in front, vigilantly checking the surroundings, and coming back with report. In forest for example, she is always walking in avant-garde, fifteen meters ahead of us. From time to time she stops, and barks once and waits for responses. If she hears something disturbing, she comes back to stay near the flock.
Her mum – GEORGIA thought her to be clever and cunning, that combined with ARGO's self-confidence lessons gave us a little dodger. ILA is just somehow better and more careful in everything that she does. She runs the fastest (and the optimal path) and swims the fastest (with impeccable technique), when retrieving she just doesn't go blindly, she sits and observes where You throw a game, and how it bounces. And in 90% of cases she will be the first to collect it….in other 10% of cases, she will delicately bite the other dog, so he will lose it. GEORGIA during the swimming race, loses focus, she makes big waves a big fountains of water, while ILA in steady rhythm swims to the target like a submarine. Mom, unmatched swimmer was defeated on the second day of ILA swim lessons, on the same day (in France) ILA was watching other dogs retrieving balls from the water, she circled around 40 meters from the shore, watching the balls, alone without leaving the water for almost forty minutes. When the dogs got tired, ILA collected all abandoned balls and came ashore. ILA also has the best nose. Once we went with her mom for the man-trailing. A couple of dogs walked along several paths, when it was all over we released ILA, to our surprise, she went through all the paths, and happy come back to us.
And as for cunning. Such an example, each of our dogs gets a big piece of meat and bone to eat. Normally (when we are at home), it looks like that – ARGO and his powerful jaws, quickly brakes bones and eats meat. GEORGIA eats just as quickly but in large pieces. ILA goes to the side starts to eat slowly (sometimes scrambling on the couch). And when we're gone? Do you think that ARGO or GEORGIA steals her meat? Maybe because she is the smallest and youngest? When we come back home after giving them food just before leaving it looks like this: GEORGIA and ARGO sit in the hall and their eyes are fixed on the distant item floor somewhere in the room. In the door there is ILA, blocking the passage, slowly eating the meat portion and behind her on the floor (sometimes in the seats) there ….are the other two portions of waiting in line.
For a long time we were wondering over some film archetype to match with ILA, and probably the closest to such is Japanese ninja.
So do not be fooled by this flirty look, there are two little devils in those eyes.
# RNR JANIS JOPLIN Allfordogs
# GEORGIA ON MY MIND




Name: Georgia on my mind
Nicknames: Geo, Matron, J.Lo., mommy
Breeder: Elaine Fichter
Dad: Chouffe Cristaline Quaciendas (NL) JChNL (HD A/A, ED 0/0)
Mom: Ermengarda dite Coccolina (FR) SCC selection grid – 5/6 (She has the highest quotation of any Barbet on the SCC selection grid), (HD A/A, ED 0/0)
Born: 2nd of June 2011 in Bage la Chatel
Achievments: Junior Champion of Poland, Champion of Poland
Work and intrests: eating, sleeping and playing with my big brown brother
ED: 0/0, HD: A/A, eyes checked and clear (inc. PRA, RD)
Where the devil gives up, GOERGIA carries on. This little dog is the smartest one in the neighborhood, her doings often require detective skills in reconstructing the chain of events, some still bear the clause "X-Files." When she came – it was the house of brown athlete, so she had to be clever. In addition, she is about three times faster than the brown one, when the bag rustles when the food lands in the bowl, GEORGIA is already waiting while ARGO is just leaving the starting blocks. In exceptional circumstances when the ARGO is the first at the finish, GEORGIA will start a little queue jostling, leaving ARGO finally in second place . We once thought that the ARGO is really gifted in opening all kinds of doors, cabinets and plastic packaging, well we didn't have GEORGIA back then. For example – why my little brown buddy moan for pasta, which is left high in the sink, just pull the chair to the adjacent cabinet to get to the loot? For riding in the car, we had a special compartment so that the dogs would not go to forward seats … ARGO has not won for two years, it took about thirty seconds for GEORGIA to get trough, a few days later she opened from inside a metal cage in which she sat with ARGO, hence her first nickname – " prison break. "
When we were choosing GEORGIA we wanted to have a perfect working dog, she is extremely obedient and focused on working with a guide. She is also tireless at work, never giving up. Once on the hunting camp, when all other dogs were tired and laying down after three days of intense training, in the middle of hot day she was still at her best so the judge gave her another nickname – "duracell".
When GEORGIA fetches ARGO has no chance … he has never managed to be faster than the little devil, and sometimes to give him a head start the ball lands at his feet. It's all for nothing – the spitfire will attack within few seconds, or will disturb the brown one so hard that he will loose it. GEORGIA fetches everything everywhere at anytime, when she goes outside she remembers about taking a toy, so she opens the wardrobe and reports ready holding her favorite ball in her mouth . The biggest mistake one can make is to throw something in inaccessible area …She sleeps only in places where there is something over her head. GEORGIA is always hungry, so at the beginning she taught the brown one not to think too hard while eating. Because if You raise Your head once, there could be nothing left in the bowl.
Once during a little confusion at home, she took fifteen-kilo bag of food on the balcony (because there was peace and quiet). Of course the brown one denounced her quickly making a lot of noise. Within about five minutes we lost around four kilos of food. GEORGIA promotes environmentally friendly attitude, always volunteering to pre-wash the dishes before putting them into dishwasher.
In contrast to the brown one, GEORGIA has no life motto but she always asks herself one very important question … where is the game ?
# ARGO
Nicknames: Gucio, Gustaw, bodyguard
Born: 30th of June 2009
Experience: Kindergarten, assistance dog,
Achievments: Junior Champion of Poland, Champion of Poland…invitation for Cruft's

Work and intrests: eating, sleeping and…eating
Argo (after becoming father for free times….and even grandfather) has finished his stud career.

ARGO is the undisputed star of our team called "ARGO and the other dogs", brave and overly effusive easily wins the hearts of encountered people . Once pet / hooked / talked to – he is Yours. (Of course, it counts If You are just using cell phone – after all, If someone says something, it's obvious that he speaks to the Barbet) From now until the end of the audience, he will keep putting his paws on Your knees or tries to push his head under Your hands – appreciate it – Barbet in his mercy gives You a chance to pet him. ARGO likes to work but in acceptable amounts, unless it is tasting. ARGO has a very good nose (praised at training), so after leaving home, he enters the "search mode" and often stays in his world of smells and sensations. Walking with his nose to the ground, he sometimes hits small objects like tress. He is eager to fetch, but easily distracts, as behaviorist told us- ARGO has this "problem", he enjoys everything … the grass is green, there is a flower, omg it is the butterfly. He likes to jump on agility. Very strong and smart, there is no dog that could not be caught (the ambush method), or one that would have won the traditional fumbling only his brother – AMON, got the tie, party lasted eight hours. Labradors are no rivals. Yet, as a small puppy he challenged to a play-duel giant schnauzer passing fifty meters away, unfortunately, little ARGO did not know how perspective works and when the little black doggy has grown to the size that covered the sky, our sitting and frozen hairy friend fell from the curb. At the dog show he is the star of the first magnitude, his gait and movement are incomparable.
ARGO efforts to maintain a perfect appearance, are widely recognized even at the far side of the world, where his image is usually at the exhibition stand of the American Club Barbet. He has very good understanding of the human needs – "you should be on a diet and I will sacrifice for you and eat that" or "today You have learned enough – you're tired, I will lay on the books and notes." At his free time ARGO practices yoga. He is also a dancer in his own style known as "happy feet", one unique record is in the movies section. He is also creating the foundations of his own philosophical system called "barbeism", the second prominent thinker of "barbeism" is his soulmate FINLEY "The Baby".
Motto – full speed ahead
Father of almost twenty… but you can not see that he is overwhelmed. In the future, wants to be a meat factory inspector. Meat factories may send offers on our mail.