ARGO
Nicknames: Gucio, Gustaw, bodyguard
Born: 30th of June 2009
Experience: Kindergarten, assistance dog,
Achievments: Junior Champion of Poland, Champion of Poland…invitation for Cruft's

Work and intrests: eating, sleeping and…eating
Argo (after becoming father for free times….and even grandfather) has finished his stud career.

ARGO is the undisputed star of our team called "ARGO and the other dogs", brave and overly effusive easily wins the hearts of encountered people . Once pet / hooked / talked to – he is Yours. (Of course, it counts If You are just using cell phone – after all, If someone says something, it's obvious that he speaks to the Barbet) From now until the end of the audience, he will keep putting his paws on Your knees or tries to push his head under Your hands – appreciate it – Barbet in his mercy gives You a chance to pet him. ARGO likes to work but in acceptable amounts, unless it is tasting. ARGO has a very good nose (praised at training), so after leaving home, he enters the "search mode" and often stays in his world of smells and sensations. Walking with his nose to the ground, he sometimes hits small objects like tress. He is eager to fetch, but easily distracts, as behaviorist told us- ARGO has this "problem", he enjoys everything … the grass is green, there is a flower, omg it is the butterfly. He likes to jump on agility. Very strong and smart, there is no dog that could not be caught (the ambush method), or one that would have won the traditional fumbling only his brother – AMON, got the tie, party lasted eight hours. Labradors are no rivals. Yet, as a small puppy he challenged to a play-duel giant schnauzer passing fifty meters away, unfortunately, little ARGO did not know how perspective works and when the little black doggy has grown to the size that covered the sky, our sitting and frozen hairy friend fell from the curb. At the dog show he is the star of the first magnitude, his gait and movement are incomparable.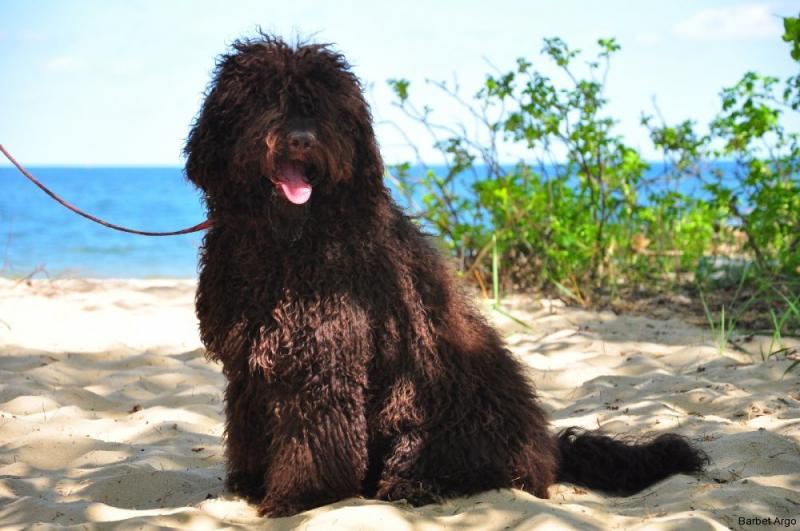 ARGO efforts to maintain a perfect appearance, are widely recognized even at the far side of the world, where his image is usually at the exhibition stand of the American Club Barbet. He has very good understanding of the human needs – "you should be on a diet and I will sacrifice for you and eat that" or "today You have learned enough – you're tired, I will lay on the books and notes." At his free time ARGO practices yoga. He is also a dancer in his own style known as "happy feet", one unique record is in the movies section. He is also creating the foundations of his own philosophical system called "barbeism", the second prominent thinker of "barbeism" is his soulmate FINLEY "The Baby".
Motto – full speed ahead
Father of almost twenty… but you can not see that he is overwhelmed. In the future, wants to be a meat factory inspector. Meat factories may send offers on our mail.