GEORGIA ON MY MIND


Name: Georgia on my mind
Nicknames: Geo, Matron, J.Lo., mommy
Breeder: Elaine Fichter
Dad: Chouffe Cristaline Quaciendas (NL) JChNL (HD A/A, ED 0/0)
Mom: Ermengarda dite Coccolina (FR) SCC selection grid – 5/6 (She has the highest quotation of any Barbet on the SCC selection grid), (HD A/A, ED 0/0)
Born: 2nd of June 2011 in Bage la Chatel
Achievments: Junior Champion of Poland, Champion of Poland
Work and intrests: eating, sleeping and playing with my big brown brother
ED: 0/0, HD: A/A, eyes checked and clear (inc. PRA, RD)
Where the devil gives up, GOERGIA carries on. This little dog is the smartest one in the neighborhood, her doings often require detective skills in reconstructing the chain of events, some still bear the clause "X-Files." When she came – it was the house of brown athlete, so she had to be clever. In addition, she is about three times faster than the brown one, when the bag rustles when the food lands in the bowl, GEORGIA is already waiting while ARGO is just leaving the starting blocks. In exceptional circumstances when the ARGO is the first at the finish, GEORGIA will start a little queue jostling, leaving ARGO finally in second place . We once thought that the ARGO is really gifted in opening all kinds of doors, cabinets and plastic packaging, well we didn't have GEORGIA back then. For example – why my little brown buddy moan for pasta, which is left high in the sink, just pull the chair to the adjacent cabinet to get to the loot? For riding in the car, we had a special compartment so that the dogs would not go to forward seats … ARGO has not won for two years, it took about thirty seconds for GEORGIA to get trough, a few days later she opened from inside a metal cage in which she sat with ARGO, hence her first nickname – " prison break. "
When we were choosing GEORGIA we wanted to have a perfect working dog, she is extremely obedient and focused on working with a guide. She is also tireless at work, never giving up. Once on the hunting camp, when all other dogs were tired and laying down after three days of intense training, in the middle of hot day she was still at her best so the judge gave her another nickname – "duracell".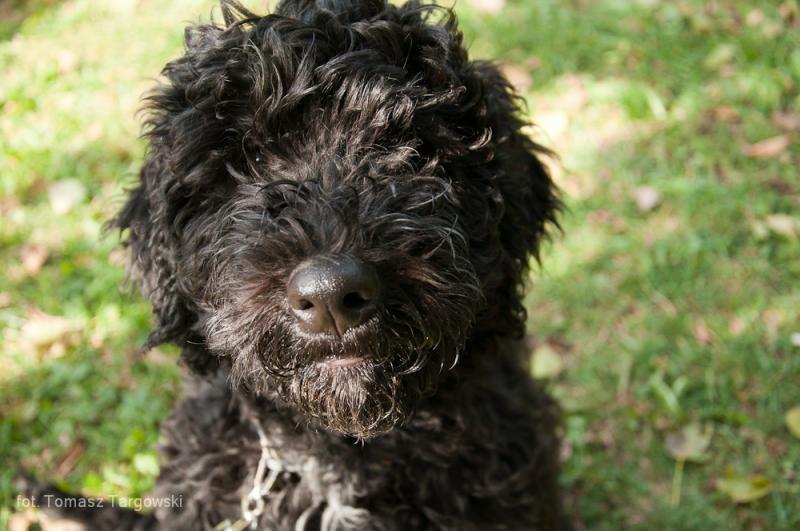 When GEORGIA fetches ARGO has no chance … he has never managed to be faster than the little devil, and sometimes to give him a head start the ball lands at his feet. It's all for nothing – the spitfire will attack within few seconds, or will disturb the brown one so hard that he will loose it. GEORGIA fetches everything everywhere at anytime, when she goes outside she remembers about taking a toy, so she opens the wardrobe and reports ready holding her favorite ball in her mouth . The biggest mistake one can make is to throw something in inaccessible area …She sleeps only in places where there is something over her head. GEORGIA is always hungry, so at the beginning she taught the brown one not to think too hard while eating. Because if You raise Your head once, there could be nothing left in the bowl.
Once during a little confusion at home, she took fifteen-kilo bag of food on the balcony (because there was peace and quiet). Of course the brown one denounced her quickly making a lot of noise. Within about five minutes we lost around four kilos of food. GEORGIA promotes environmentally friendly attitude, always volunteering to pre-wash the dishes before putting them into dishwasher.
In contrast to the brown one, GEORGIA has no life motto but she always asks herself one very important question … where is the game ?